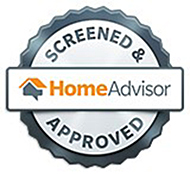 TerraFirma is an Oregon-owned basement waterproofing, crawl space and foundation repair company providing foundation piering systems and Basement Systems® products to residential and commercial customers throughout Oregon, Washington, and soon to be Idaho.
The ownership and management team have an extensive background in both residential and commercial construction, having been involved in the industry since 2005. The knowledge and pride we bring to every job site ensures that your project will be handled in a way that guarantees 100% customer satisfaction.
About the Owner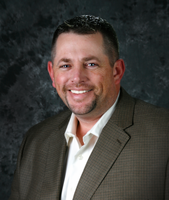 Ryan Beckley
Ryan is a third generation Oregon entrepreneur in the construction industry. He started an excavation company at 24, building it into a leading underground utility company in the state, and now has over 50 employees. He's very active in several civic organizations, including the Board of Trustees for the Community Cancer Center in Roseburg. In his spare time, Ryan enjoys time with his two boys, golfing, fishing, jet boating, sporting events and anything that is fun!
Over the years, our main focus has been finding a permanent solution to homes/ businesses that have experienced differential settlement. Our piering system provides that answer. Our piers can be installed year-round, landscaping is undisturbed, limited access areas are not an issue, all installers are certified, and the cost is reasonable compared to other solutions that are not guaranteed to work.
The nuts and bolts of the foundation pier system can be summarized in three easy to understand steps. First, a series of foundation pier anchoring brackets of heavy, industrial strength steel are attached to your home's footings.
Next, rugged steel piers are hydraulically driven down to solid rock or equal load-bearing strata. This is done below ground so nothing is exposed. Finally, the weight of your home, anchored to the steel brackets, is carefully transferred from unstable soil to rock-solid piers. Your home or commercial building is now secure.
Greater Portland Commercial Foundation and Structural Repair Services
Our new construction piering system provides customers with the satisfaction of knowing they don't have to worry about settlement issues after building their dream home or business.
Most of the available buildable land in Oregon & Southwestern Washington is located on hillsides or constructed fill lots that require soil or rock to be brought in or cut out of the hillside to create a suitable, level pad.
We can install our piers prior to pouring any foundations and transfer the load safely to load bearing strata. This will allow you to construct your home/business closer to slopes without fear of sliding off the mountain. You may be able to build a bigger home because the original plans you had would not fit on your lot. The benefits of thinking before you build will pay huge dividends in the future.

With the Supportworks line of foundation and structural solutions, products and services, TerraFirma is proud to offer residential and commercial customers access to award-winning geotechnical, piering, and wall bracing solutions. Based in Omaha, NE, Supportworks, Inc.® is a network of over 200 dealers serving local communities in areas such as Ohio, California, Florida, Missouri and many cities throughout ALL of North America and Canada.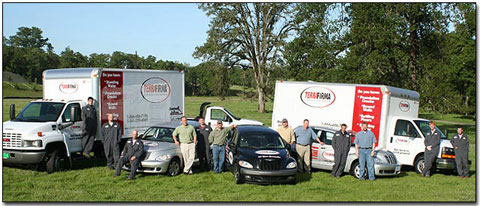 Basement Waterproofing Contractors in Reedsport, Baker City, Ashland
The Basement Systems® line of basement drainage/finish products provide homeowners with the security of knowing that water finding its way into basements and crawlspaces can be controlled.
We carry a full line of products that can be installed inside your home/business that can handle the water coming in and discharge it safely away from the structure.
With your new dry area, we offer wall and flooring systems that will turn your basement into usable living space. We also offer the Cleanspace® crawlspace encapsulation system that will eliminate dirt crawlspaces and the problems associated with them.

We Proudly Serve Greater Portland & Medford and Areas Nearby
Contact us today and our friendly staff will book a free in home inspection at your convenience. Our certified sales staff will diagnose the problem and present a solution to solve the problem.
You and the problem you're experiencing will be treated with the same sense of urgency, whether it's a big or small job.
Looking for a price? Get a no cost, no obligation free estimate.
our service area
We serve the following areas