Crawl Space Encapsulation in Greater Medford
Why homeowners choose us
Two exclusive encapsulation systems
25-year CleanSpace® Warranty against rips & tears
Wide range of solutions: Insulation, dehumidifiers, sump pumps & more
FREE crawl space inspections & estimates
We have the proven solutions you need for a dry, healthy crawl space
At TerraFirma, we use proven crawl space sealing solutions to transform your damp, nasty crawl space into a dry, clean, efficient, useable space.
Why seal your crawl space?
As warm air rises, cool air from the crawl space is drawn into your home's living areas. This process is called the stack effect, and is similar to the way a chimney works. Because of this and other factors, a lot of the air you breathe in your home actually comes from your crawl space. By installing a crawl space encapsulation system, we can reduce moisture that may be causing musty smells, mold, and structural damage in your crawl space.
To schedule your free crawl space inspection & estimate today, call us at 1-833-271-4878 or fill out our contact form to get in touch with our specialists.
---
We offer exclusive moisture control systems
To solve your crawl space issues, we do more than just install a vapor barrier. We offer a variety of patented crawl space repair solutions for your home. TerraFirma provides two different encapsulation and vapor barrier systems to choose from, and our expert technicians can help select the best system for your needs and budget. Both of our encapsulation systems also include crawl space insulation for added comfort and energy efficiency.
VaporLoc Elite™ System Benefits: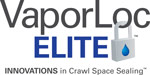 Greatly reduces musty smells, with an EVOH layer that seals out odors.
Creates a clean, dry, sanitary, usable storage area.
Insulates crawlspace and reduces energy costs.
Reduces allergens such as mold and dust mites throughout the home.
Greatly improves indoor air quality throughout the entire home.
Eliminates excessive, destructive moisture, which could lead to wood rot.
Seals out soil gasses.
Reduces the No. 1 source for entry of radon gas into the home.
Learn more about the VaporLoc Elite moisture barrier.
---
CleanSpace® System Benefits:
Offered with a 25-year Performance Warranty.
Eliminates moisture damage, mold & mildew.
Provides durable surface for storage.
Keeps out dust mites, allergens & pests.
Compatible with other products such as insulation, dehumidifiers, sump pumps, etc.
Learn more about the CleanSpace® moisture barrier.
Our complete lineup of crawl space repair solutions
We offer a full range of crawl space products that are compatible with our VaporLoc Elite™ and CleanSpace® crawl space encapsulation systems. Click the links below to learn more about each solution!
Problems with an open, unsealed crawl space
Traditionally crawl spaces were built with vents that were believed to relieve excess moisture form the air and keep the crawl space dry. Experts now know that vents instead allow more variation in humidity, which creates more moisture. The pictured graph is from a Crawl Space Research project conducted by Advanced Energy, and shows how a closed crawl space can drastically improve moisture control in your crawl space.
Get your Free Crawl Space Repair Estimate
Do you have humidity problems, allergy and asthma issues, musty odors coming from your crawl space, or high heating and cooling bills? These are just a few problems that may be related to moisture in your crawl space.
If you are looking for a proven solution, contact TerraFirma to have your crawl space inspected for free by one of our experts! We will also provide you with a free quote for crawl space repair.
Our service area includes Vancouver, Portland, Salem, as well as Beaverton, Bend, Hillsboro, Gresham, Corvallis, Eugene, Albany and surrounding areas of Oregon and Washington.
Looking for a price? Get a no cost, no obligation free estimate.