Foundation Repair Contractors in Greater Olympia, WA
Repairing Basement Walls, Settling, Sinking Foundations
Do you have cracked foundation walls, drywall cracks, a leaning chimney, uneven floors, or sagging floor joists? If so, you may have a foundation problem - which can be fixed!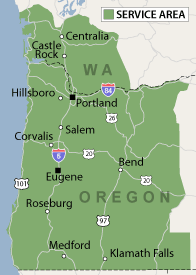 Foundation problems can be caused by changes in the moisture content of the soil around your home. During extended periods of dry weather, the soil around and under your home can shrink, causing your home to settle. During extremely wet periods, the soil under your home can soften or even collapse which can also cause your home to sink and settle.
For over 20 years at TerraFirma, we have been fixing failing foundations and crawl space posts with patented products that are proven and tested. For example we use and do underpinning, mudjacking, push piers, helical piers and more. We are your foundation repair experts in Olympia, OR. We provide services throughout metro Olympia and elsewhere in Oregon and Washington.

We provide Free Foundation and Crawl Space Inspections and Estimates. If you would like to find out if your home is structurally sound, fill out the form below or call us today!
TerraFirma is a local Olympia foundation repair contractor. We are part of Supportworks, a larger foundation repair network.
Contact Us For A Free Estimate
For a free no-obligation estimate, please complete the quick form below. TerraFirma will contact you shortly to schedule an appointment
Privacy Statement: Your privacy is valued! Your personal information will be kept confidential and will not be redistributed or shared with any third parties.
Looking for a price? Get a no cost, no obligation free estimate.